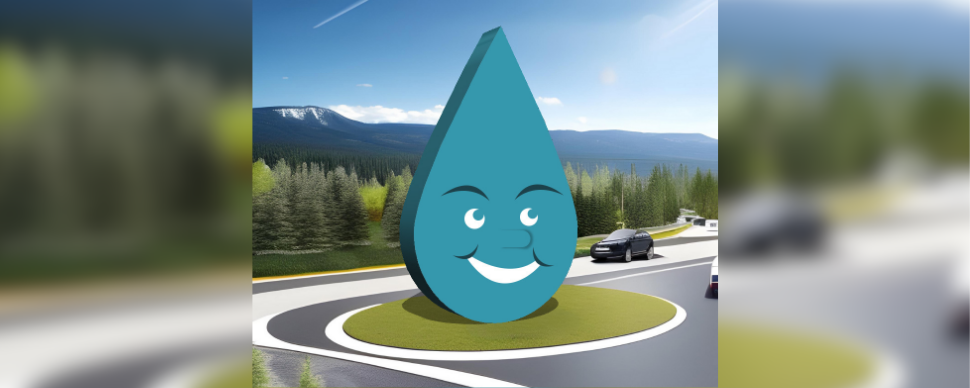 FOR IMMEDIATE RELEASE
Prince George, BC – The City of Prince George is excited to unveil its new official city mascot and roadside attraction after retiring Mr. PG. The roadside attraction will be placed at the centre of a new traffic circle that will replace the current signaled intersection at Highway 16 and Highway 97. Construction on the six-lane traffic circle is slated to begin this spring.
The new mascot, Dewey, replaces Mr. PG as the City transitions from a forestry-based community. Dewey the water droplet represents the two rivers and is a nod to the up-and-coming hydrogen industry.
Image
"It's always been important for us to embrace industry in Prince George. The new mascot shows the world that we are moving forward with a diversified economy," said Mayor Simon Yu, "the new traffic circle is a great location for Dewey to greet visitors to Prince George. Not only will it significantly improve traffic flow in a busy area, but it will also give drivers something fun to look at." He further added, "My goal is to eliminate all traffic lights in Prince George and replace them all with traffic circles so we can move around faster."
City staff commissioned the American design firm, So and So, to create the mascot design and build the new roadside sculpture at a cost of $785,000. The result is a modern and more marketable icon that represents the city's spirit and culture.
"When people see Dewey, it's hard not to think of Prince George. It truly is an embodiment of everything great about our community," said Tourism Prince George CEO, Colin Carson. "The new mascot and roadside sculpture is anticipated to attract hundreds of thousands of tourists to our community every year. We're excited to get rid of Mr. PG – nobody really liked him anyways."
Mr. PG will remain at his current location until next year. He's scheduled to be moved on April 1, 2024, which is also - conveniently - April Fool's Day!
-30-
Media contact:
Julie Rogers, communications manager
City of Prince George
Mobile: 250-561-7727
Email: media@princegeorge.ca